From N.C. high school basketball to the NBA: It's a well-worn path that continues today
By Richard Walker
Starting with a pair of players who helped create North Carolina's first high school basketball dynasty, the state has long had a presence in professional basketball.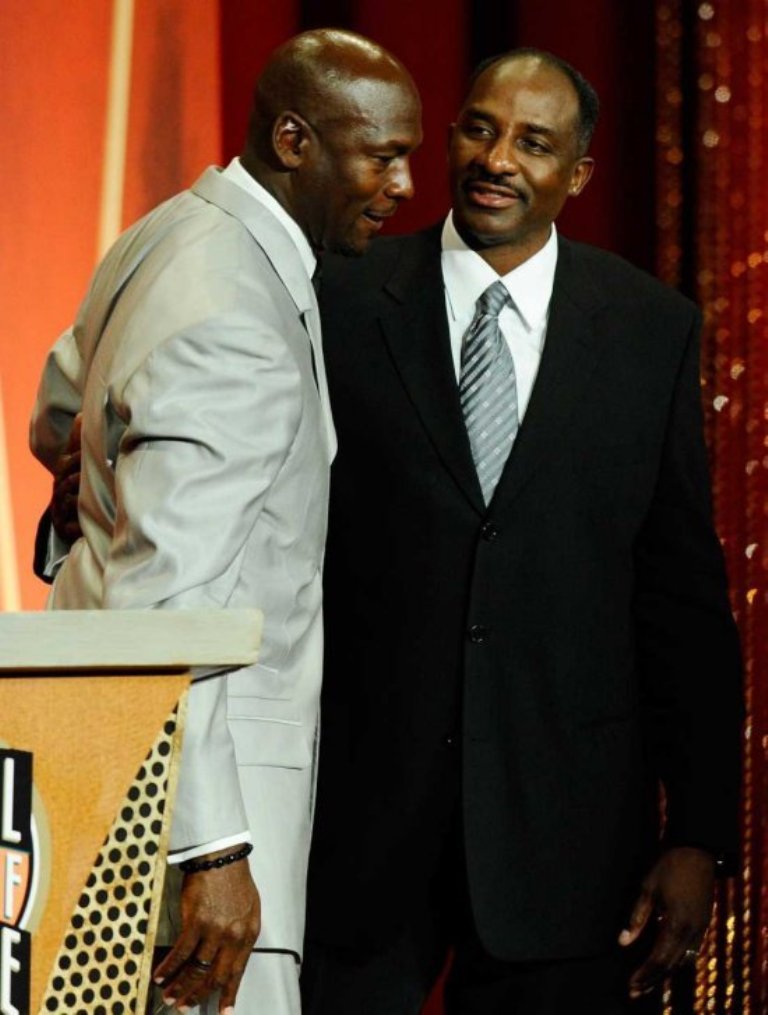 That continues to this day as there are 30 current players on NBA rosters who played at least one season for a N.C. high school, among them three Charlotte Hornets players (Devonte' Graham, Caleb Martin, Cody Martin), two Gastonia products (Nate Hinton and Hassan Whiteside) and seven former Charlotte high schoolers (Ty-Shon Alexander, Seth Curry, Stephen Curry, Devon Dotson, Anthony Gill, Grant Williams and Patrick Williams).
Since former Durham High teammates Bob Gantt and Horace "Bones" McKinney and old Ellenboro High's Belus Smawley played in the inaugural 1946-47 NBA season, there have been 192 players to play in either the ABA or NBA ever since.
They include 10 Hall of Famers, nine who have played 15 or more seasons, eight No. 1 overall NBA Draft picks, four players with 20,000 or more points and two players with 10,000 or more rebounds.
Which school has produced the most players?
Laurinburg Institute in Scotland County has that distinction – and it's not even close.
The Tigers have produced 14 eventual NBA players, among them Hall of Famers Sam Jones and Charlie Scott and No. 1 overall pick Jimmy Walker. Jones is the first Basketball Hall of Fame inductee (1984) and the first African-American to be inducted into the N.C. Sports Hall of Fame (1969). Scott was inducted into the Basketball Hall of Fame in 2018.
A small African-American school founded in 1904 by Emmanuel Monty and Tinny McDuffie at the request of renowned educator Booker T. Washington, Laurinburg Institute also produced hundreds of other eventual college standouts for schools all across the country.
Three other schools have produced five or more eventual NBA players – Durham Mount Zion, Kinston and Raleigh Enloe.
Mount Zion, a prep school, produced all six of its players since 1997, among them 2017 Basketball Hall of Fame inductee Tracy McGrady.
Kinston also has produced six players, including the state's longest tenured NBA player produced by a state high school (Jerry Stackhouse 18 years), current New Orleans Pelicans standout Brandon Ingram and Boston Celtics NBA champion Cedric "Cornbread" Maxwell, who now is on the Celtics' radio network.
Enloe has produced five players, among them longtime NBA player, head coach and current Atlanta Hawks' head coach Nate McMillan.
Locally, Gastonia rivals Ashbrook (James Worthy and Darrell Arrmstrong) and Hunter Huss (Thomas "Bubba" Wilson and Eric "Sleepy" Floyd) have produced the most players with two each. Other NBA players from Cleveland, Gaston and Lincoln counties were produced by Crest (David Thompson), Gaston Day (Nate Hinton) and Kings Mountain (George Adams). Hinton also played at Forestview and Charlotte Northside Christian, Whiteside attended Ashbrook, Forestview and Huss but didn't play at any of those schools before playing at Lenoir's Patterson School and Jim Cleamons was born in Lincolnton but played high school basketball in Columbus, Ohio, before his nine-year NBA career.
Who are the other Basketball Hall of Famers?
Raleigh Broughton's Pete Maravich was inducted in 1987, New Bern Barber's Walt Bellamy in 1993, Crest's Thompson in 1996, Ashbrook's Worthy in 2003, Washington's Dominique Wilkins in 2006, Wilmington Laney's Michael Jordan in 2009 and South Mecklenburg's Bobby Jones in 2019 – and other N.C. high schoolers are certain to follow in the coming years.
Who were the No. 1 overall picks in the NBA draft?
Bellamy was the first in 1967. He was followed by Walker in 1967, Thompson in 1975, Durham Hillside's John Lucas in 1976, Worthy in 1982, Swannanoa Owen's Brad Daugherty in 1986, Greensboro Page's Danny Manning in 1988 and Raleigh Word of God's John Wall in 2010.
Which players have the most career NBA points and rebounds?
Jordan and Bellamy are well clear of their competition in points and rebounds, respectively.
Jordan scored 32,292 points, which puts him more than 5,000 ahead of second-place Wilkins (26,668). West Forsyth's Chris Paul and Charlotte Christian's Stephen Curry are the active leaders, but neither has yet surpassed 20,000 career points.
Bellamy had 14,241 rebounds, which gives more than 1,000 ahead of second-place Buck Williams from Rocky Mount (13,017). No other player has more than 8,200.
Which colleges have benefitted the most from the state's future NBA talent?
Given the long-term success of the state's four ACC programs Duke, North Carolina, N.C. State and Wake Forest, it's not surprising they are the top four colleges to benefit from N.C. talent; North Carolina is tops with 21 players, followed by N.C. State with 18 and Duke and Wake Forest with 12 apiece.
Sixteen other in-state schools also have produced NBA talent – Western Carolina (4 players), Charlotte (3), Chowan (2), Davidson (2), North Carolina Central (2), Winston-Salem State (2), Appalachian State (1), Campbell (1), East Carolina (1), Elon (1), Fayetteville State (1), Gardner-Webb (1), Guilford (1), Louisburg (1), UNC-Wilmington (1) and Wingate (1).
Theodore "Blue" Edwards of Greene Central is the lone NBA product for both Louisburg College and East Carolina as he played two years at each school.
Sixty-three other colleges have had eventual N.C. prep NBA talent play for their teams.
Not surprisingly, current or former ACC teams have benefitted most as Maryland (4 players), Florida State (3), Georgia Tech (3), South Carolina (3), Virginia (3), Boston College (2), Virginia Tech (2), Clemson (1) and Louisville (1) all have had players from this state.
Four other schools have had three or more former N.C. prep players – Kansas (4), Arizona (3) Memphis (3), Minnesota (3).
The first Kansas player, Greensboro Page's Danny Manning, set off controversy as he left that school after his junior season to finish his high school career in Lawrence, Kansas, High School after his father Ed Manning was hired as an assistant coach on former North Carolina standout Larry Brown's coaching staff; Shelby's Alvin Gentry, Gregg Popovich and John Calipari were future NBA head coaches on Brown's coaching staffs at Kansas, which also included current Kansas head coach Bill Self.
Since they made the NBA, how did these players do in high school?
Virtually all of them did, though some endured hardships.
An unusual bit of trivia involves Jordan. Since the the state had far smaller playoff fields in his career, his teams never qualified for the state playoffs. His senior year, when Laney won the Mideastern Conference title, only the tournament winner advanced – and Laney was upset in the league tournament.
Gantt and McKinney were standouts for three straight Durham High state champions from 1938 to 1940 the helped the school eventually win 73 straight games (a streak that ended after that duo left the Bulldogs' program).
In the days before school integration, Bellamy, Greensboro Dudley's Lou Hudson, Asheville Stephens-Lee's Hanry Logan and Winston-Salem Atkins' Happy Hairston and Willie Porter led their teams to success in the old North Carolina High School Athletic Conference for African-American students.
Bellamy's team lost in the 1957 semifinals, Hudson's team won the 1961 3A title, Logan's team won the 1962 3A title and was 1964 runner-up and Hairston and Porter led their team to the 1959 3A title.
From 1966 to 1978, four players were MVPs for their 4A state championship teams and another pair faced off against one another in the state's first all-city 4A state final.
Vann Williford was MVP for Fayetteville Terry Sanford in 1966, Bobby Jones (1970) and Walter Davis (1971 and 1972) were MVPs as South Mecklenburg won three straight state titles, Williams was the 1978 MVP and Floyd's Huss team knocked off Worthy's Ashbrook team in the 1977 state final.
In 1982, future pros David Henderson of Warren County and Brad Daugherty of Swannanoa Owen played against one another in the 3A title game – with Henderson winning and taking MVP honors.
In 1991, West Charlotte's Jeff McInnis was MVP of the 4A title game before he played for Oak Hill, Va., Academy the last two years of his high school career.
Before transferring to Enloe, Chris Wilcox was MVP of the 1999 2A title game for Whiteville.
In the 21st century, N.C. Independent Athletic Association schools began producing more and more future pros.
Before Charlotte Latin's Anthony Morrow made his NBA debut in 2008, only two NCISAA products have ever played in the NBA – Greensboro Day's Wayne Robinson and Charlotte Christian's Todd Fuller.
Since Morrow, who helped Latin to 2003 and 2004 3A titles, those numbers have exploded behind many players who thrived in NCISAA playoffs.
Charlotte Christian's Stephen Curry and Seth Curry were 2A runner-up in 2006
Asheville Christ School's Plumlee brothers Miles, Mason and Marshall helped that school win five straight 2A titles from 2007 to 2011.
Wall was a two-time champion (2007 and 2008) and 2009 runner-up.
Raleigh Ravenscroft's Ryan Kelly was a 2009 3A runner-up.
Fayetteville Trinity Christian's Dennis Smith was a 2016 1A champion.
And Gaston Day's Hinton was a 2018 2A runner-up.
Future NBA standouts also won NCHSAA titles.
MVPs of state champions were Raleigh Wakefield's Darius Johnson-Odom (2008 4A), Kinston's Reggie Bullock (2010 2A), Wilmington New Hanover's Kadeem Allen (2012 4A), Oxford Webb's Isaiah Hicks (2013 3A), Kinston's Brandon Ingram (2014 and 2015 2A) and West Charlotte's Patrick Williams (2019 4A).
Ingram's 2015 title gave him four state titles in four years and also came at the expense of a previously unbeaten East Lincoln team featuring current NFL draft hopefuls Chazz Surratt and Sage Surratt.