Wednesday's roundup: Middle school volleyball title team, Prep and college basketball, college softball poll and college wrestling honor
By Richard Walker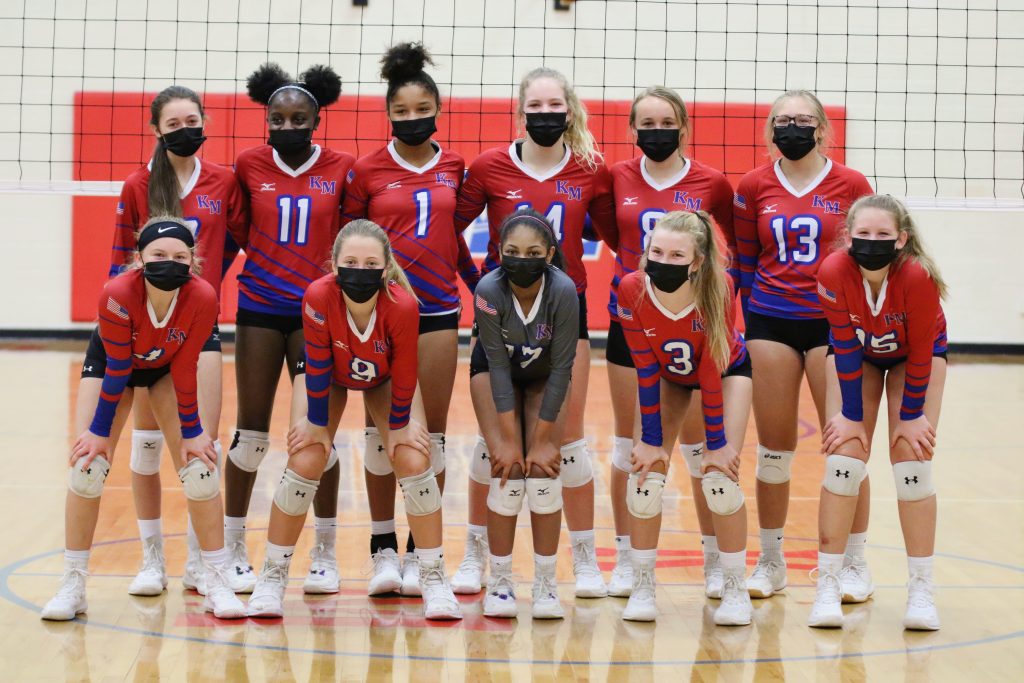 Kings Mountain Middle School repeated its championship this school year – and in unbeaten fashion.
The Lady Patriots capped an 8-0 season on Dec. 15 when it defeated visiting Crest 3-1 (25-9, 25-17, 23-25, 25-11) to capture its second straight Tri-County Conference title.
Leaders for coach Lindsay Ellis' team were Camden Pasour (39 aces, 30 kills, 90 assists, 48 digs), Alexa Jones (19 aces, 50 kills, 83 digs), Abigail Hedgepath (52 aces, 24 kills, 76 assists, 23 digs), London Brown (8 aces, 30 kills, 23 digs), Megan Harrison (17 aces, 17 kills, 53 digs) and Brooke Hamrick (30 aces, 20 kills, 13 digs). Other members of the team were defensive contributors Sakhia Boswell, Madi Broome and Ava Tipton and offensive contributors Abby Warnock, Mary Ruffalo and Ruby Osborne.
This was the third straight year Kings Mountain had advanced to the Tri-County volleyball championship; In 2018, the Patriots lost to Crest 3-0 then swept East Rutherford 3-0 in 2019 to cap a 14-0 season.
This year, Kings Mountain finished 8-0.
High school boys basketball
Shelby 68, Crest 66: Shelby built double digit leads in each half and held off the visiting Chargers in a non-conference battle of unbeaten teams. Shelby (5-0) visits South Point in a Southwestern 2A game on Friday night and Crest (5-1) visits Kings Mountain next Tuesday in Big South 3A action in its next game.
Pine Lake Prep 62, Mountain Island Charter 59
Huss 69, Forestview 60 (Tuesday): J.J. Moore (18 points, 11 rebounds, 5 assists), Noah Caulder (15 points, 6 rebounds), Ray Mackey (12 points) and Cory Adams (10 points) led the Huskies (3-2), who visit Cramer on Friday in their next game.
Lincoln Charter 87, Bessemer City 53 (Tuesday): Sam Cogan (24 points, 7 rebounds), Marcus Farley (19 points, 4 assists), Troy Fulton (17 points), Elijah Burnett (13 points, 10 assists, 6 rebounds) and Carter Seitz (10 points, 12 rebounds) led the unbeaten Eagles to the victory.
R-S Central 68, South Point 63 (Tuesday): Ayden Baker had 20 points, Garret Hunt 16 and Jaquis Rumph 12 for visiting South Point.
High school girls basketball
Mountain Island Charter 49, Union Academy 42
Newton-Conover 63, North Lincoln 18
Shelby 78, Crest 41
High school basketball
Friday's Cherryville at Highland Tech basketball tripleheader has been moved to Feb. 18.
Friday's Lincolnton at North Lincoln basketball tripleheader has been postponed.
The Kings Mountain at Cramer girls basketball game postponed on Jan. 5 has been rescheduled for Feb. 4 at 6 p.m.
College men's basketball
Gardner-Webb 84, UNC-Asheville 57: Jamaine Mann's career-high 18 points led Gardner-Webb to its largest win of the season in the Big South Conference victory. The Runnin' Bulldogs (4-9, 3-5) visits USC Upstate on Sunday at 2 p.m. in their next game.
College women's basketball
The Charlotte 49ers will not play its two scheduled Conference USA home games on Friday and Saturday against Florida Atlantic due to contact tracing and injuries within the Owls program. The two schools will work with Conference USA on rescheduling the two contests.
College softball
Gardner-Webb has been picked to win the 2021 Big South Conference title for the first time in its history, the league announced on Wednesday. In addition to the team honor for head coach Tom Cole, The Bulldogs' Brooke Perry was tabbed Preseason Pitcher of the Year and slugger Autumn Owen was named Preseason Co-Player of the Year. Gardner-Webb started last season 24-5 in non-conference play before the season was stopped in early March by the pandemic.
College wrestling
Belmont Abbey freshman Tyler Pepe has been named South Atlantic Conference Carolinas Wrestler of the Week, the league office announced Wednesday. Pepe was a perfect 2-0 last week in conference wins over Emmanuel and Queens in the 141-pound weight class to help the Abbey to team wins over both opponents.