Remembering Kings Mountain professional baseball pioneer Otto Briggs
By Richard Walker
Before Jackie Robinson integrated major league baseball in 1947, organized professional baseball was separated by race.
The American League and National League had a "gentleman's agreement" that forbade the signing of African-American baseball players until Branch Rickey of the Brooklyn Dodgers broke that rule with Robinson.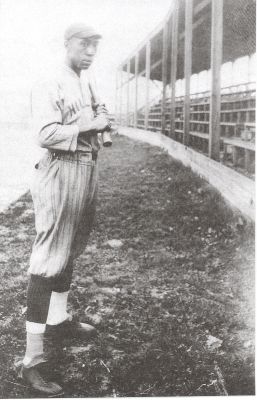 The "gentleman's agreement" led to the forming of several African-American leagues – called Negro baseball in those days – to give players of color their chance to play organized baseball.
Kings Mountain's Otto Briggs was one player who took full advantage of his opportunity in historic fashion.
Not only was Briggs the first player in Cleveland, Gaston and Lincoln counties to play in an organized major league – the Eastern Colored League in 1917 – he also was the area's first World Series participant and champion. Briggs was born April 7, 1891 in Kings Mountain.
A right fielder and leadoff batter for the Hilldale Giants of Philadelphia, Briggs helped his team to a 47-26-1 record in 1924 and a league title that earned Hilldale a spot in the first official Negro World Series.
The Giants played the perennial power Kansas City Monarchs, who went 57-22 to win the Negro National League title.
The series used a best-of-nine format and games were played in Philadelphia, Baltimore, Kansas City and Chicago on 10 days between Oct. 3 and 20. Briggs batted .273 in the series, stole home in Game Four and drew praise in newspaper reports for his defense.
However, Hilldale lost the series five games to four. One of the games ended because of darkness at 6-all after 13 innings.
In the Oct. 20 finale at Chicago's Shorlings Park, eventual Baseball Hall of Famer Jose Mendez fired a 3-hitter and didn't allow a baserunner to reach second base as Kansas City won 5-0. The Monarchs had completed a rally from a 3-1 series deficit by winning four of the last five games in the series.
Mendez was one of two eventual Baseball Hall of Famers on the Kansas City roster; Pitcher Joe Rogan was inducted in 1998 and Mendez in 2006.
Three eventual Hall of Famers were on the Hilldale roster – third baseman Judy Johnson (1975 inductee), shortstop Biz Mackey (2006) and catcher Louis Santop (2006).
In 1925, Hilldale was motivated to get back to the World Series and rolled through the Eastern Colored League regular season with a 45-13 record.
As fate would have it, Kansas City was again awaiting after the Monarchs went 60-26-2 to win the Negro National League.
But this time, Hilldale rolled to the World Series title by winning five of six games behind a powerful lineup that had seven All-Eastern Colored League selections in fan voting organized by The Pittsburgh Courier – catcher Mackey, first baseman George Carr, second baseman Frank Warfield, third baseman Johnson and pitchers Nip Winters, Phil Cockrell and Rube Currie.
Though Briggs wasn't selected to the all-star team, The Pittsburgh Courier gave him this glowing review in an Oct. 3, 1925 newspaper report: "Rightfielder with Hilldale whose hitting and fielding made him a real threat man. Briggs is said by close students of the game to be one of the greatest Negro outfielders of all times."
In a series that ranked from Oct. 1-11, Briggs batted a team-best .414 and played rightfield as Hilldale won three of four games played in Kansas City then won both contests played at the Philadelphia Phillies' Baker Bowl ballpark. In a 2-1 victory in Game 5, the Baker Bowl crowd was estimated at 9,000.
Briggs played for Hilldale until 1930 and finished his career with four seasons playing for the Atlantic City, N.J., Bacharach Giants from 1931 to 1934.
Later a manager of the minor league Bacharach Giants and for Hilldale, Briggs died at 52 in Philadelphia on Oct. 28, 1943. Briggs also worked at The Philadelphia Tribune, a newspaper owned by his wife's family and coached girls softball and girls basketball.