Remembering a Charlotte 49ers football pioneer and longtime South Mecklenburg athletic director
By Richard Walker
A Charlotte 49ers football pioneer and longtime South Mecklenburg athletic director died earlier this week at 94.
Fred Boger died peacefully at his home in Charlotte on Tuesday.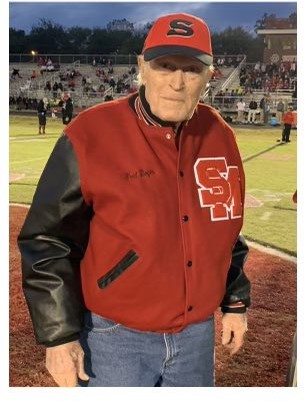 A 1944 Charlotte Central High graduate, Boger served in the U.S. military during World War II and in the Korean conflict.
He also used the G.I. bill to attend college at old Charlotte Center of the University of North Carolina (now UNC Charlotte) and Appalachian State. He played football for both schools.
In 1946, he was a member of CCUNC's first-ever football team as a starting halfback.
He scored the first touchdown in school history on Oct. 15 in a 25-14 loss to the Catawba junior varsity in a game played at Memorial Stadium. Boger later scored two touchdowns in the school's first victory – 12-0 at Pembroke State – on Nov. 5. He would end up the season scoring five of the team's eight touchdowns as it finished with a 2-4 record.
From 1947 to 1949, Boger played at Appalachian State, helping the Mountaineers to a 26-5-1 combined record with one North State Conference title under ASU Hall of Fame head coach E.C. Duggins. (In 1947, Boger also scored two touchdowns for the Appalachian State junior varsity in a 20-12 win over his former team CCUNC on Nov. 12 at Memorial Stadium.)
Boger's collegiate success came after he helped Central High to its ninth and final state football title in 1943. A starting quarterback in the 7-0 state championship win over Raleigh High at Memorial Stadium, Boger kicked an extra point for the Wildcats. He also was a co-state champion pole vaulter while in high school.
After returning from the Korean War, Boger embarked on a long teaching and coaching career that included 22 years as athletic director at South Mecklenburg High School. The Sabres' first head baseball coach, Boger was a key figure in the athletic program when it took state championships in football (1966 and 1981), basketball (1970, 1971, 1972 and 1976) and baseball (1989).
He retired from teaching and coaching in 1992.