North Carolina's Junior College basketball history: Part 4 – The all-time great coaches and players of Region X and the two recent national championship teams
North Carolina and the National Junior College Athletic Association Region X area that also includes schools from South Carolina and Virginia has a rich basketball history that dates to the 1920s. We're doing a four-part series on that history.
Part 1: The early years from 1929 to the 1950s when Belmont Abbey was one of the powers. Link: https://carolinassportshub.com/north-carolinas-junior-college-basketball-past-the-first-of-a-4-part-series-starts-with-belmont-abbeys-early-dominance/
Part 2: The 1960s when changes were coming fast and furious and Gardner-Webb emerged as a dominant program. Link: https://carolinassportshub.com/north-carolinas-junior-college-basketball-past-the-second-of-a-4-part-series-starts-with-gardner-webbs-1960-dominance-led-by-2-future-pros/
Part 3: The 1970s when Gaston College fielded successful teams and one of them nearly advanced to the national tournament. Link: https://carolinassportshub.com/north-carolinas-junior-college-basketball-history-part-3-gaston-college-builds-program-quickly-successfully-before-dropping-sport-in-1972/
By Richard Walker
When the National Junior College Athletic Association began holding national championship basketball tournaments, it didn't take long for North Carolina teams to get involved.
Though the North Carolina Junior College Conference didn't pursue a national championship in the inaugural year of the NJCAA tournament in 1948, they joined in the following year and have participated in national tournament competition in every year but one ever since.
Along with schools from South Carolina, Virginia and West Virginia, North Carolina has been a member of NJCAA Region X and has produced championship teams and all-time great players and coaches through the years.
Future NBA stars like Pete Maravich (Southwood 1965-66), Artis Gilmore (Gardner-Webb 1967-68 and 1968-69), Nate McMillan (Chowan 1982-83 and 1983-84) and Theodore "Blue" Edwards (Louisburg 1984-85 and 1985-86) all played for North Carolina junior colleges. So did New York City Rucker Park playground legend Richard "Pee Wee" Kirkland (Kittrell 1966-67) along with former NJCAA national tournament MVPs Darrell Floyd (Wingate 1950-51 and 1951-52) and Gene Bogash (UNC-Wilmington 1961-62 and 1962-63).
Floyd and Kirkland were national NJCAA scoring leaders in 1952 and 1967, respectively. Floyd is the first junior college player to surpass 1,000 points in a season that season with 1,024 and Kirkland averaged 41 points per game.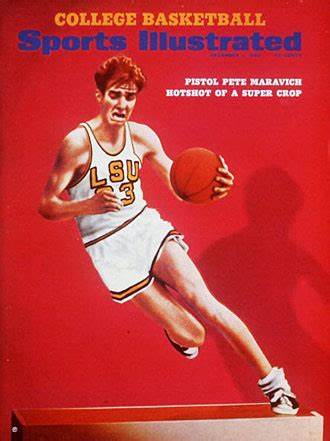 Denver native Fred McCall guided Campbell to 221 victories and one NJCAA tournament title while also becoming more famous for helping found the nationally-known Campbell basketball camp in 1956.
Before Nield Gordon became a prominent head basketball coach at Belmont Abbey, Newberry and Winthrop, he helpd Wingate to back-to-back NJCAA national tournaments in 1950 and 1951.
Gordon's Wingate coach, Danny Miller, went on to coach at Davidson (1952-55) and Idaho State (1967-71).
Most remembered for the sport of baseball – the school's baseball stadium is named after him – Bill Brooks guided UNC Wilmington to back-to-back NJCAA national tournaments in 1962 and 1963.
Future ACC championship winning coach Leonard Hamilton of Florida State played for Gaston College in 1966-67 and 1967-68.
Current American Legion World Series chairman Eddie Holbrook was the Gardner-Webb coach when that school advanced to NJCAA national tournaments in 1968 and 1969 before later guided the school to senior college success with two NAIA national tournament appearances in 1972 and 1974 before coaching Furman to its last NCAA tournament appearance in 1980.
Carl Tacy coached Ferrum, Va., to Region X titles in 1967 and 1970 before later coaching at Wake Forest of the ACC.
Enid Drake coached Louisburg to 697 victories, three Region X titles and five runner-up finishes in his 42-year head coaching career that ended in 2006.
Bob Burke coached Chowan to 419 victories, three Region X titles and two runner-up finishes in his 22-year head coaching career that ended in 2002.
Longtime NCAA Division I assistant coach Scott Rigot, who has worked at South Carolina, UAB, Kentucky and Marshall, guided Spartanburg Methodist to 158 wins, three Region X titles and two runner-up finishes in six seasons.
Rigot also guided the second Region X team to the national champoinship game in 1995 – Ferrum was the first in 1972.
Floyd (1987), Bogash (1992), Gilmore (1998), Drake (2001) and McMillan (2001) also are members of the NJCAA Basketball Coaches Association Hall of Fame that started in 1984.
Beginning in 1986, the NJCAA began a Division II. That was followed by the introduction of the Division III program in 1993.
That has spawned more national championship game appearances for Region X teams Caldwell Community College and Technical Institute, Richard Bland, Va., Louisburg and Sandhills Community College.
Caldwell Community College and Technical Institute finished as NJCAA Division III runner-up in 2014.
Richard Bland finished as 2015 Division II national champion after beating John Wood, Ill., 64-53 in the title game played at Danville, Ill.
Louisburg, which qualified as the Region X runner-up, finished as the 2017 Division II runner-up.
And Sandhills has dominated in Division III by winning six Region X titles and two national titles in its nine seasons under head coach Mike Apple. In 2012, the Flyers beat Cedar Valley, Tex., 101-86 in the finals at Loch Sheldrake, N.Y. And last March, the Flyers beat Mohawk Valley, N.Y., 93-89 in the finals in Rochester, Minn.