Longtime Bessemer City teacher, coach remembered for his service to the community
By Richard Walker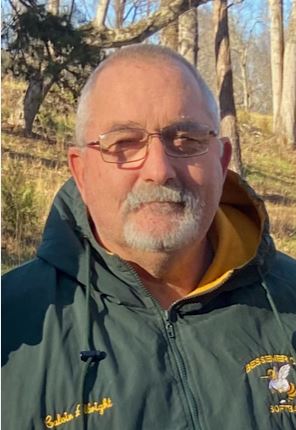 The Bessemer City community is mourning the passing of a longtime coach who spent his life in service to his hometown.
Calvin Briggs Albright died at Atrium Health in Lincolnton on Friday. He was 64.
Born on Dec. 27, 1956 in Gaston County to Clyde Adolphus Albright and Doris Briggs Albright, he is survived by his wife of 45 years Kay Baxter Albright; daughter Kelly James (Billy) of Bessemer City; son Jeff Albright (Whitney) of Lititz, Pa.; brothers Mike Albright (Roseanne) and Ronnie Riddle (Vickie) of Lincolnton; grandchildren Dani James, Desi James, and Levi Briggs Albright; mother-in-law Pat Baxter Rayfield; and numerous nieces and nephews.
Calvin Albright was a beloved retired coach and teacher at the school he attended in the 1970s and was a multi-sport athlete.
"I'm going to miss him terribly," said Bryan Nichols, who was a student of Albright's and later became a longtime coaching colleague. "He was like a second dad to me. It's a big loss for our community."
Calvin Albright first began coaching youth basketball and baseball in the Bessemer City recreation Leagues before coaching volleyball, boys and girls basketball and softball for the high school.
He is the winningest coach in school history in both girls basketball (109 victories) and softball (130 victories). His 2001-02 Yellow Jackets' girls basketball team is the winningest in school history (19-8 record) and it also recorded the school's first playoff win in 20 years.
In softball, he built a program that would make the playoffs nine straight years and he was replaced by his daughter Kelly as head coach.
"He never met a stranger," Nichols said. "When he quit coaching, he started officiating basketball because he loved being around the sport so much."
The Sisk-Butler Funeral Home website said he "loved his family, friends, students, and his community. Of all his roles, being a Paw Paw was his favorite. When he was not at the school or cutting grass, he loved being at the beach and talking to anyone and everyone. Calvin attended First Wesleyan Church in Bessemer City."
He will lie in state from 3-7 p.m. at Bessemer City's Sisk-Butler Funeral and Cremation Services on Tuesday, Feb. 2. The funeral service will be held Wednesday, Feb. 3 at 2 p.m. at Bessemer City's First Wesleyan Church with Pastor Matt Mitchell officiating. Interment will follow the funeral service at Bessemer City's Westview Gardens Cemetery.