How did Cherryville get its unique nickname? It's from a title-winning football team and a former superintendent whose name you will know
By Richard Walker
Cherryville High's "Ironmen" nickname is certainly unique.
It's also came with a historic, championship-winning story.
A program most known for its baseball and basketball programs over the years, Cherryville was actually a football power in the 1930s when  Jack Kiser guided the school's teams to a 60-21-9 record during his 11-year tenure as head coach from 1931 to 1941.
His best and most gratifying season came in 1934 when Cherryville finished with a 7-0-3 record and the school's only football state championship.
Then nicknamed the Cherries, players had to be recruited just to field a team that began the season with 16 players. And during the course of the season, players were injured and unable to play. And when a player broke his leg in the seventh game at Lincolnton, Cherryville played the final three contests with 11 players.
According to one of the team's stars, tackle Howell Stroup, then-Gaston County Schools superintendent Hunter Huss gave Cherryville its nickname.
"They had a county newspaper for the schools and he said that we were 'The Ironmen,'" Stroup told The Gaston Gazette in 2006. "And the name's been stuck on the school ever since."
And, yes, it was THAT Hunter Huss as in the Cherryville native for whom the Gastonia high school that opened in 1962 is named.
In the same interview, Stroup said the 1934 Ironmen led a blessed life that began before the season had even started.
With only one player, 200-pound tackle John Rudisill, weighing more than 180 pounds, Stroup said the team's success was based on its quickness, execution and discipline.
It also involved adding a key piece to the team before play began when Stroup said he recruited 125-pound guard John Craft to play for the team. By season's end, John Craft embodied the "Ironmen" moniker as well as anyone since a Dec. 1, 1934 report in the Gastonia Gazette on Cherryville's 6-2 Western North Carolina Activities Association Western Conference championship game victory over Morganton said John Craft played "the latter part of the game with smashed ribs."
Cherryville was later declared co-champions because an official's mistake helped the Ironmen close out the victory in a game played on Nov. 30 in front of 2,000 fans in Hickory.
Leading 6-0 because of halfback Hubert Mauney's 16-yard touchdown run in the second quarter, the Ironmen stopped Morganton on downs inside the Cherryville 5. After Cherryville took a safety to account for the final 6-2 score, game officials mistakenly gave Cherryville possession at its own 20 – and the Ironmen were able to run out the game clock for victory.
Officials should've given Cherryville a free kick from its own 20, which would have allowed Morganton at least one more offensive possession.
A week later – and after a Morganton protest – WNCHSAA officials ruled the game to be replayed before later deciding against it.
In a Dec. 8, 1934 report in The Charlotte Observer, it reported: "Morganton and Cherryville have been declared co-champions of the Western high school football conference and each team will receive a silver football, a symbol of conference supremacy according to a decision of Eris Cassell of Concord, secretary of the conference."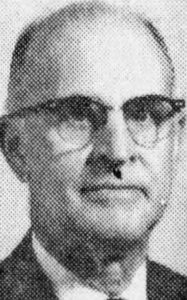 Louis Evans, a sports writer from The Charlotte News, certainly didn't diminish Cherryville's title.
In a Dec. 18, 1934 column, Evans wrote:
"This is a tribute to a great little football team, probably the best and lest heard of band of gridders in North Carolina.
"I speak of the Cherryville High football team.
"Jack Kiser, former Lenoir-Rhyne star, assembled a football team from the boys of one of North Carolina's thriving little villages and went out to play a schedule, one ranking with the best of schools in its division, and came out unbeaten.
"The Ironmen, that's the name given the Cherryville team, licked Morganton 6-2 for the title, but because of an officials' slip in the game were forced to share the crown with Morganton."
During the season, Cherryville beat Forest City 12-0, Shelby 8-6, Cliffside 18-0, Lincolnton 25-0, Newton 12-6, the Cherryville All-Stars 40-7 and Morganton. The only blemishes came in the middle of the season when the Ironmen were tied three times in four weeks – against Blacksburg, S.C. (7-7), Kings Mountain (6-6) and N.C. School for the Deaf (0-0).
Halfback Hinse Quinn was the team's leading scorer with 11 touchdowns for 66 points and other team members were Stroup, Rudisill, Mauney, John Craft, Henry Craig Harrelson, Harry Lee Burns, Kenneth Putnam, George Harrelson, J.D. Hicks, Hugh Putnam, Jack Burns, Carl Smith, T.A. Moss, Alfred Black and Wilbur Craft.
Cherryville had a chance at back-to-back titles the following year, but Newton beat the Ironmen 34-0 in the 1935 WNCHSAA title game played at Lenoir-Rhyne College in Hickory to end Cherryville's season with a 7-1 record.
It makes the 1934 team the school's only unbeaten squad in history in addition to giving the school its nickname.
Kiser, who also coached football at Bessemer City and Lincolnton, gained his greatest fame coaching Lincolnton girls basketball to 287 wins, 14 conference titles and seven state titles from the 1941-42 season to 1960-61. He died on May 12, 1993 at 86.