Hornets wrapup: NBA record set in Charlotte's Saturday night home game against Atlanta
By Richard Walker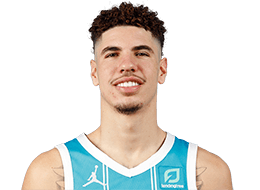 Notes and observations from Saturday's 113-105 Charlotte Hornets' home win over the Atlanta Hawks that improved the team to 5-5 overall:
… NBA history was set on Saturday as Charlotte rookie LaMelo Ball became the youngest player in league history with a triple-double. One night after missing a triple-double by one assist (12 points, 10 rebounds, 9 assists) in a 118-110 win on national television at New Orleans, he had 22 points, 12 rebounds and 11 assists. "It feels great," Ball said. "We got the win so I'm feeling great right now."
… Ball's feat came when he was 19 years and 140 days old. The previous record-holder had been Markelle Fultz, who had a triple-double for the Philadelphia 76ers on April 11, 2018 when he was 19 years and 317 days old.
… Ball secured the record with his 10th assist, a pass to P.J. Washington that was converted into a 5-foot jumpshot with 6:15 left in the game.
… Ball also became the Hornets' first triple-double since Nic Batum in 2018, first rookie triple-double since Kemba Walker in 2012 and, with it being Ball's 10 game, he is the fastest player in franchise history with a triple-double. Walker's triple-double came in his 20th career game. "A 19-year-old rookie just doesn't look like this," Hornets coach James Borrego said. "This is just rare what you are seeing."
… The Hornets also got solid production from Terry Rozier (23 points, 4 steals), Washington (22 points, 7 rebounds, 6 blocked shots), Caleb Martin (15 points) and Gordon Hayward (13 points) as they rallied from a 29-28 first quarter deficit to win their third straight game.
… It's the 14th time in franchise history the Hornets are 5-5 or better after 10 games. The best 10-game start is 7-3 and came in the 1997-98 and 2016-17 seasons. "We're not perfect, but we are making progress," Borrego said.
… Borrego is most pleased with the team's defensive improvement, which includes holding Atlanta All-Star Trae Young without a 3-pointer in two wins over the Hawks this week. "I'm pleased with the trend that we're taking on defense," Borrego said. "We're not where we want to be. But we're trending in the right direction."
What's next: Charlotte hosts New York on Monday at 7 p.m.
It's the second of three straight home games that include Wednesday against Dallas.