Hornets playoffs: Part 2 – Homecourt no advantage against Michael Jordan's late-season return in 1995
This is the second in a series on Charlotte's previous NBA playoff seasons. Here's a look at other stories in the 10-part series:
Part 1 – The Hive Is Alive as the Hornets win their first postseason series in 1993. Link: https://carolinassportshub.com/hornets-playoffs-part-1-the-hive-is-alive-as-the-hornets-win-their-first-postseason-series-in-1993/
Part 3 – Hard Ball runs into a motivated former Charlotte All-Star in 1997
Part 4 – Hornets dispatch Hawks, hand "Last Dance" Bulls their first playoff loss in 1998
Part 5 – Tragedy mars season, then Iverson too much to overcome in 2000 playoffs
Part 6 – Headband fever sparks longest playoff run in season of off-court turmoil in 2001
Part 7 – Lame duck Hornets again advance to conference semifinals in 2002
Part 8 – Early season trade sparks expansion franchise into playoffs in 2010
Part 9 – First-year head coach, offseason free agent acquisition led to playoffs in 2014
Part 10 – Franchise snaps long postseason losing streak with 2016 postseason play
By Richard Walker
The first time the Charlotte Hornets made the NBA playoffs in 1993, the Michael Jordan-led Chicago Bulls won its third straight league championship.
Then Jordan stunned the Bulls and the rest of the basketball community by "retiring" from the sport to pursue a career in baseball.
Jordan's departure created opportunities for other teams, most notably the New York Knicks, Indiana Pacers, Orlando Magic and the Hornets.
Much of that appeared to change when labor unrest in baseball helped push Jordan back to basketball.
And when he announced simply, "I'm back" in March 1995, the NBA landscape was altered wondering how effective he'd be in his return.
Following a competitive Eastern Conference race, the Hornets got to find out first-hand when they drew Jordan and the Bulls in the first round of the 1995 playoffs.
Charlotte had a franchise-best 50-32 season highlighted by an 11-game home winning streak and having Larry Johnson and Alonzo Mourning selected for the All-Star game.
The Hornets also led the Central Division from Jan. 30 to March 16 before being overtaken by the Pacers and recorded their first five-game seasonal sweep of an opponent when they won at Detroit on April 14.
Charlotte recorded the historic 50th victory over Cleveland in the April 23 season finale.
But as the Hornets ended up fourth to draw the Bulls in the opening round of the playoffs, a March 29 season-ending injury to starting small forward Scott Burrell altered much of what coach Allen Bristow wanted to do.
Burrell had emerged as a defensive standout and 3-point sharpshooter.
Without him, Bristow used veterans Wingate and Joe Wolf and rookie Darrin Hancock to fill in.
Against Chicago, it also cost Bristow another defensive option on Jordan.
A future Hornets owner, Jordan was all too eager to take advantage of that weakness – and did so right away in the playoffs.
Though he played only 17 regular season games, Jordan averaged 26.9 points while shooting a subpar 41.1 percent from the field overall but an impressive 16 of 32 on 3-pointers.
Against Charlotte in the opening round, Jordan was even better as he scored 10 of his game-high 48 points in overtime of a 108-100 victory in the first game of the playoffs to take homecourt advantage away from the Hornets right away.
Charlotte rebounded quickly and routed Chicago 106-89 in the second game of the series before the Bulls returned the favor with 103-80 win in Chicago in Game 3.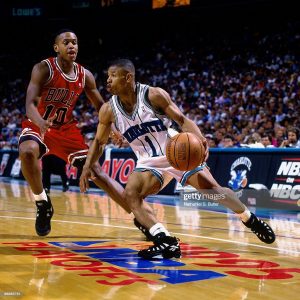 It set up an important nationally-televised fourth game that didn't disappoint.
Charlotte led 68-65 after the third quarter but Jordan and Scottie Pippen had 24 points apiece and Johnson and Hersey Hawkins missed shots that would've forced a decisive fifth game in the final four seconds of a 85-84 Bulls' win.
The game proved to be Alonzo Mourning's last meaningful game with the Hornets as he and his agent David Falk requested a trade before the start of the next season.
The 1995 Hornets
Record: 50-32 (1-3 in playoffs)
Head coach: Allen Bristow
Top scorers: Alonzo Mourning 21.3, Larry Johnson 18.8, Hersey Hawkins 14.3, Dell Curry 13.6, Scott Burrell 11.5
Top rebounders: Mourning 9.9, Johnson 7.2, Burrell 5.7
Notes: Robert Parish averaged 4.8 points, 4.3 rebounds and 16.7 minutes after being signed as a free agent. Another key offseason pickup was Michael Adams, but the veteran point guard was limited to 29 games by several injuries.