Monday's roundup: Honey Hunters add local player, HIgh school and middle school results and full NCAA men's and women's pairings and results
By Richard Walker
The Gastonia Honey Hunters have added another Gaston County product to their roster as they prepare for their inaugural 2021 season in the Atlantic League of Professional Baseball.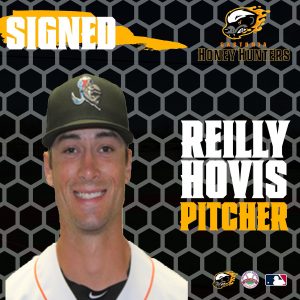 The Honey Hunters announced on Tuesday they had signed former Forestview High standout Reilly Hovis.
A 2012 Forestview High graduate, Hovis was an ACC champion and All-ACC pitcher at the University of North Carolina before spending four seasons in professional baseball from 2016 to 2019 after being a ninth-round draft pick of the Miami Marlins in 2015.
Hovis advanced as far as Class AA in the Marlins' organization, then spent the 2019 season playing for two Independent League teams.
Earlier, the franchise has signed North Gaston's first major league player in pitcher Jake Buchanan. A 2007 North Gaston High graduate, Buchanan also was a standout for Gastonia American Legion Post 23 and N.C. State before spending 10 seasons in professional baseball, with four in the major leagues.
Other previous Honey Hunter signees have been pitchers Chris Lee, Carl Brice and Jon Olczak.
Lee spent nine years in professional baseball playing for the Houston Astros and Baltimore Orioles organizations after being a fourth round pick of the Astros in the 2011 draft out of Gainesville, Fla., Sante Fe Community College.
Brice spent five seasons in Independent League baseball after playing at Ridgeland, Miss., Holmes Community College.
Olczak, from Fayetteville, pitched at N.C. State, was drafted in 21st round of the 2015 major league draft by the Milwaukee Brewers and spent spent five years in that organization.
The Honey Hunters' exhibition season opener is slated for May 22 at 4:50 p.m. at the new Gastonia FUSE stadium. The team's regular season begins on May 27, also at home.
College women's basketball
Belmont Abbey College's first appearance in the Elite Eight basketball tournament will be Tuesday night at 8:45 p.m.
The fourth-seeded Lady Crusaders (24-2), winners of 20 straight games, plays fifth-seeded Central Missouri (22-4) in the fourth and final quarterfinal game of the day at the Greater Columbus, Ohio, Convention Center.
The NCAA Division II Elite Eight pairings:
Quarterfinals
Tuesday's quarterfinals
#2 Lander (19-1) vs. #7 Azusa Pacific (12-4), noon
#3 Drury (22-1) vs. #6 Charleston, W.Va. (19-2), 2:45 p.m.
#1 Lubbock Christian (20-0) vs. #8 Daemen (14-2), 6 p.m.
#4 Belmont Abbey (24-2) vs. #5 Central Missouri (22-4), 8:45 p.m.
Wednesday's semifinals
#2 Lander-#7 Azusa Pacific winner vs. #3 Drury-#6 Charleston, W.Va., winner, 6 p.m.
#1 Lubbock Christian-#8 Daeman winner vs. #4 Belmont Abbey-#5 Central Missouri winner, 8:45 p.m.
Friday's championship game
8 p.m.
College football
Recruiting: Hunter Huss wide receiver Noah Caulder announced he has committed to play football at Liberty University.
Game postponement: The Big South Conference announced Monday that the Kennesaw State at Gardner-Webb football conference game scheduled for Saturday has been postponed due to prior COVID-19 issues and student-athlete availability within the GWU program that will prevent the Runnin' Bulldogs from playing this weekend.
High school golf
Shelby's Connor Brown won the Hurricane-Faldo Junior Gold Series tournament last weekend by four strokes. The win moved Brown into second place in the national standings with 3,775 points. Zachary Loninger of Crosswicks, N.J., is the leader with 4,175 points.
High school football
This week's high school football schedule:
(Tuesday)
North Gaston at Kings Mountain
(Friday)
Bandys at West Lincoln
Cherryville at Thomas Jefferson
Christ the King at Bessemer City
Cramer at Ashbrook
East Gaston at Burns
East Rutherford at Chase
Forestview at Huss
Highland Tech at Community School of Davidson
Maiden at East Lincoln
Mountain Island Charter at Pine Lake Prep
Newton-Conover at North Lincoln
R-S Central at South Point
(Saturday)
Kings Mountain at Shelby
North Gaston at Crest
High school softball
Crest 17, Ashbrook 0
Burns 7, East Rutherford 3: Winning pitcher Sayge Strange struck out 15 and had a four-hitter for Burns. Strange (1-3, RBI), Maura Pendleton (3-4), Jaycee Bivins (2-4, double, two RBIs), Morgan Blanton (2-4, 1 RBI) and Hunter Morgan (2-4) led the Bulldogs offense.
Cramer 12, Cherryville 1
North Gaston 13, Forestview 10
Shelby 6, Chase 3
High school girls soccer
Crest 8, Ashbrook 1: Madison Setzer (2 goals), Kalee Varga (2 goals, 1 assist), Jillian Hux (1 goal, 1 assist), Leslie Gonzales (1 goal, 2 assists), Alexis Marshall (1 goal, 2 assists), Cadence Walker (1 goal, 1 assist) and goalkeeper Emma Harrill led Crest (2-1) to the Big South 3A victory.
Lincolnton 4, Bandys 2
Burns 5, East Rutherford 1
R-S Central 5, East Gaston 2
East Lincoln at North Lincoln: Moved to Tuesday
Kings Mountain 7, Huss 0
Newton-Conover 6, West Lincoln 1
Forestview 3, North Gaston 0: Peyton Jacobs had two goals and Grace Hite one for unbeaten Forestview (3-0).
Mountain Island Charter 5, Queen's Grant 2
Shelby 6, Chase 0
South Point 3, Cramer 0
Crest 2, Cramer 1 (Last Wednesday): Madison Setzer and Cadence Walker scored goals, Alexis Marshall had an assist and Emma Harrill was the winning goalkeeper for Crest.
Middle school boys soccer
Cramerton 8, Chavis 1: Spencer Baker (3 goals, 2 assists), Aloui Diouf (3 goals), Aiden VanderMeer (1 goal), Brody Dyer (1 goal), Joshua Ramsey (1 assist), Lane Crotts (1 goal) and defenders Tristan Holt and Nicholas Markley led Cramerton (2-0), which hosts Mount Holly on Thursday.
Grier 2, Mount Holly 1 (2 OT): Jordan LaVerde and Angel Castillo scored goals for Grier.
Belmont 4, Stanley 0: Dominic Feduniec, Isaac Contreras, Patch Blee and Brandon Cunningham scored goals and Luke Wesolowski recorded the goalkeeping shutout for Belmont (2-0), which hosts Holbrook on Thursday.
Holbrook 9, Southwest 1
Middle school softball
Chavis 19, Bessemer City 3: Winning pitcher Krista Davis (5 strikeouts), Landyn McBride (1-1, 2 RBIs) and Landry Beam (1-2, 2 RBIs) led Chavis, which also got hits from Lexi McSwain, Emma Proctor, Raylei Gidney and Kennedy Weathers.
Belmont 15, Stanley 8 (8 innings): A seven-run top of the eighth was the difference for the Wildcats, who were led by winning pitcher Mallory Stafford's 13 strikeouts, five hits and three RBIs. Annie Risk added three hits for Belmont.
Holbrook 19, Southwest 3
College men's basketball
Belmont Abbey honors: Head coach Dan Ficke and guard Sean Halloran were honored by the National Association of Basketball Coaches (NABC) in their postseason release of all-region honors with Ficke being named Region Coach of the Year and Halloran was a second-team all-region selection. The Crusaders finished the season 18-5, winning the Conference Carolinas Tournament and earning a No. 1 seed for the NCAA Southeast Regional.
Here are the full 2021 NCAA basketball tournament pairings:
East Region
March 18 opening round
UCLA 86, Michigan State 80, OT
Texas Southern 60, Mount St. Mary's 52
March 20 first round
Michigan 82, Texas Southern 66
LSU 76, St. Bonaventure 61
Colorado 96, Georgetown 73
Florida State 64, UNC-Greensboro 54
UCLA 73, BYU 62
Abilene Christian 53, Texas 52
Maryland 63, Connecticut 54
Alabama 68, Iona 55
Monday second round
Michigan 86, LSU 78
Florida State 71, Colorado 53
UCLA 67, Abilene Christian 47
Alabama 96, Maryland 77
Sunday regional semifinals
Michigan vs. Florida State
UCLA vs. Alabama
South Region
March 19 first round
Baylor 79, Hartford 55
Wisconsin 85, North Carolina 62
Villanova 73, Winthrop 63
North Texas 78, Purdue 69, OT
Texas Tech 65, Utah State 53
Arkansas 85, Colgate 68
Florida 75, Virginia Tech 70, OT
Oral Roberts 75, Ohio State 72, OT
March 21 second round
Baylor 76, Wisconsin 63
Villanova 84, North Texas 61
Arkansas 68, Texas Tech 66
Oral Roberts 81, Florida 78
Saturday regional semifinals
Baylor vs. Villanova, 5:15 p.m.
Arkansas vs. Oral Roberts, 7:25 p.m.
Midwest Region
March 19 first round
Illinois 78, Drexel 49
Loyola-Chicago 71, Georgia Tech 60
Oregon State 70, Tennessee 56
Oklahoma State 69, Liberty 60
Syracuse 78, San Diego State 62
West Virginia 84, Morehead State 67
Rutgers 60, Clemson 56
Houston 87, Cleveland State 56
March 21 second round
Loyola-Chicago 71, Illinois 58
Oregon State 80, Oklahoma State 70
Syracuse 75, West Virginia 72
Houston 63, Rutgers 60
Saturday regional semifinals
Loyola-Chicago vs. Oregon State, 2:40 p.m.
Syracuse vs. Houston, 9:55 p.m.
West Region
March 18 opening round
Drake 53, Wichita State 52
Norfolk State 54, Appalachian State 53
March 20 first round
Gonzaga 98, Norfolk State 55
Oklahoma 72, Missouri 68
Creighton 63, UC-Santa Barbara 62
Ohio U. 62, Virginia 58
Southern California 72, Drake 56
Kansas 93, Eastern Washington 84
Oregon advances over VCU, no contest (COVID protocols)
Iowa 86, Grand Canyon 74
Monday second round
Gonzaga 87, Oklahoma 71
Creighton 72, Ohio U. 58
Southern California 85, Kansas 51
Oregon 95, Iowa 80
Sunday regional semifinals
Gonzaga vs. Creighton
Southern California vs. Oregon
NIT pairings and results at Comerica Center in Frisco, Tex. and University of North Texas Coliseum in Denton, Tex.:
March 17 first round
Richmond 76, Toledo 66
Western Kentucky 69, Saint Mary's, Cal. 67
March 18 first round
N.C. State 75, Davidson 61
Boise State 85, SMU 84
March 19 first round
Colorado State 75, Buffalo 73
Louisiana Tech 70, Mississippi 61
March 20 first round
Memphis 71, Dayton 60
Mississippi State 74, Saint Louis 68
Thursday's quarterfinals
Colorado State (19-6) vs. N.C. State (13-10), 7 p.m.
Boise State (19-8) vs. Memphis (17-7), 9 p.m.
Mississippi State (16-14) vs. Richmond (14-8), 6 p.m.
Western Kentucky (21-7) vs. Louisiana Tech (22-7), 10 p.m.
March 27 semifinals
Colorado State-N.C. State winner vs. Boise State-Memphis winner, noon or 3 p.m.
Mississippi State–Richmond vs. Western Kentucky–Louisiana Tech winner, noon or 3 p.m.
March 28 championship game
noon
College women's basketball
The Charlotte Region WNIT pairings at Bojangles' Coliseum:
Friday's quarterfinals
Delaware 77, Fordham 49
Clemson 65, Ohio U. 60
Florida 66, Charlotte 65
Villanova 78, Massachusetts 51
Saturday's consolation games
Ohio U. 81, Fordham 64
Massachusetts 81, Charlotte 75
Saturday's semifinals
Delaware 87, Clemson 74
Villanova 77, Florida 57
Monday's regional final
Delaware 77, Villanova 70 (Delaward advances to WNIT Final Four March 26 and 28 at Memphis, Tenn.)
Women's NCAA tournament pairings:
ALAMO Region
Sunday first round
Stanford 87, Utah Valley 44
Oklahoma State 84, Wake Forest 61
Monday first round
Missouri State 70, UC Davis 51
Wright State 66, Arkansas 62
Oregon 67, South Dakota 47
Georgia 67, Drexel 53
Northwestern 62, Central Florida 51
Louisville 74, Marist 43
Tuesday second round
Stanford vs. Oklahoma State, 9 p.m.
Wednesday second round
Missouri State vs. Wright State
Oregon vs. Georgia
Northwestern vs. Louisville
MERCADO Region
Sunday first round
N.C. State 79, North Carolina A&T 58
South Florida 57, Washington State 53
Monday first round
Belmont 64, Gonzaga 59
Indiana 63, VCU 32
BYU 69, Rutgers 66
Arizona 79, Stony Brook 44
Iowa State 79, Michigan State 75
Texas A&M 84, Troy 80
Tuesday second round
N.C. State vs. South Florida, 3 p.m.
Wednesday second round
Belmont vs. Indiana
BYU vs. Arizona
Iowa State vs. Texas A&M
RIVER WALK Region
Sunday first round
Connecticut 102, High Point 59
Syracuse 72, South Dakota State 55
Iowa 87, Central Michigan 72
Kentucky 71, Idaho State 63
Michigan 87, Florida Gulf Coast 66
Tennessee 87, Middle Tennessee 62
Virginia Tech 70, Marquette 63
Baylor 101, Jackson State 52
Tuesday second round
Connecticut vs. Syracuse, 9 p.m.
Iowa vs. Kentucky, 3:30 p.m.
Michigan vs. Tennessee, 5 p.m.
Virginia Tech vs. Baylor, 7 p.m.
HEMISFAIR Region
Sunday first round
South Carolina 79, Mercer 53
Oregon State 83, Florida State 59
Georgia Tech 54, Stephen F. Austin 52, OT
West Virginia 77, Lehigh 53
Monday first round
Texas 81, Bradley 62
UCLA 69, Wyoming 48
Alabama 80, North Carolina 71
Maryland 98, Mount St. Mary's 45
Tuesday second round
South Carolina vs. Oregon State, 7 p.m.
Georgia Tech vs. West Virginia, 5:30 p.m.
Wednesday second round
Texas vs. UCLA
Alabama vs. Maryland