Gaston College announces its first athletic hires, including a former Duke All-American as athletic director
By Richard Walker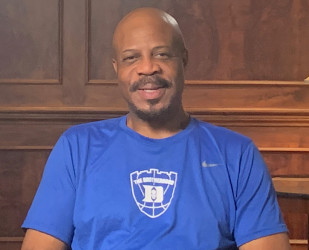 Gene Banks, a former Duke All-American and NBA player will lead Gaston College's athletic program as it prepare to restart for the first time since 1975, the school announced on Thursday.
Banks was hired along with associate athletic director-head basketball coach Dickey Nutt, head baseball coach Shohn Doty and director of athletic program development and sports marketing John Horshok.
"This is an amazing group who will bring instant credibility and excitement to our college and campus," Gaston College president Dr. John Hauser said in a school news release. ""Our alumni, students, faculty, staff and community deserve a full college experience and athletics will provide both local enthusiasm and national exposure for Gaston College."
One of the most highly-recruited players in the country in 1977, Banks signed with former Duke coach Bill Foster and helped the Blue Devils to the 1978 Final Four and a national runner-up finish alongside teammates Mike Gminski, Jim Spanarkel and Kenny Dennard. In his senior year of 1981, Banks was an All-American and an All-ACC selection while playing for Hall of Fame coach Mike Krzyzewski's first Duke team.
Banks then went on to play six years in the NBA and five years overseas. Later a NBA assistant coach for the Washington Wizards, Banks will be athletic director and involved with Gaston College's new Office of Diversity, Equity and Inclusion as well as work with WSGE 91.7 FM radio station.
"I am joining Gaston College to strive to achieve athletics excellence," Banks said in a news release. "This is a truly remarkable opportunity to design a program from scratch and combine top-notch athletics with a unique community partnership approach.
"I can't wait. We want to bring more fun and excitement to Gaston College than they have ever had."
Nutt is a former NCAA Division I basketball coach with 273 victories. Once named Sun Belt Conference coach of the year at Arkansas State, Nutt also is a former head caoch at Southeast Missouri State and a former assistant coach at Oklahoma State, Stetson and Florida State. Currently a special assistant at Cleveland State where he will finish the current season, Nutt was recommended for the job by Florida State head coach Leonard Hamilton, a 1966 graduate of old Highland High School who played basketball at Gaston College.
Doty brings 25 years of college coaching experience at Indiana State, Old Dominion, UNC-Wilmington, Arkansas-Fort Smith and for the Charlotte 49ers. A longtime pitching coach, he was at Old Dominion when eventual Cy Young award-winner Justin Verlander was in the Monarchs' program.
Horshok has a distinctive career representing national and international sports and entertainment business properties and entities to include Coca-Cola USA, Major League Baseball Alumni Association, International Special Olympics, Partners of the Americas/US State Department, USA Rugby, Siemens Corporation, Harmon Killebrew Foundation, and USA Sports Marketing. Horshok will brand and network key relationships for Gaston College and manage the overall sponsorship and community activation targets.
Gaston College, which plans to begin athletics in the 2021 fall season, is still seeking head coaches for their Esports, softball and beach volleyball programs.