50 years ago: Gardner-Webb's basketball team advanced to the NAIA Final Four
By Richard Walker
Most colleges transitioning to a higher level of competition generally struggle.
Not Gardner-Webb's basketball program.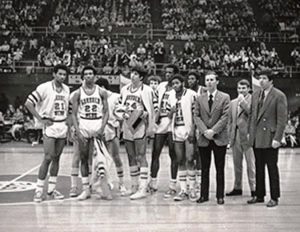 When the Runnin' Bulldogs moved from junior college to senior college, they needed just three years for the school's best national finish 50 years ago this week.
After making back-to-back trips to the National Junior College Athletic Association tournament in Hutchinson, Ks., in 1968 and 1969 led by eventual Basketball Hall of Famer Artis Gilmore, coach Eddie Holbrook's Gardner-Webb teams would make another national tournament advance in 1972.
It came after a 1969-70 season in which G-W had nothing to play for but pride in its first season as a senior college.
George Adams emerged as a star player, setting school single-game scoring records twice in a season that finished with an 18-7 record. Adams scored 47 points against Mars Hill and bettered that with 49 points against Hampden-Sydney later in the season.
A 6-foot-5, 210-pounder, Adams was a perfect fit for Holbrook's fast-paced offense.
One of the first to break the color line at nearby Kings Mountain High School, Adams' annual improvement as a player was a source of pride for Gardner-Webb teammates like Cherryville's Al Graves.
"George, to me, got 100 percent better than when he was at Kings Mountain," said Graves, who came to Gardner-Webb when Adams was a sophomore. "When he was at Kings Mountain, he could not shoot a jump shot or a free throw. All he could do was score around the basket.
"So when I got to Gardner-Webb and saw how he practiced and played, I was amazed by how well he could shoot jumpers and free throws."
How impressive was Adams' career?
Though his last game came in March of 1972, he remains Gardner-Webb's all-time leading scorer (2,404 points) and rebounder (1,113). And those totals are for only his final three years, as they would be 2,963 points and 1,430 rebounds if his freshman year were counted. (The school only counts senior college statistics and not junior college statistics.)
A program always known for its exceptional conditioning because of Holbrook's training methods created an offense that was one of the nation's best. Led by Adams, the Runnin' Bulldogs averaged more than 100 points per game in his junior and senior seasons, highlighted by a 104.0 average in the 1971-72 season.
And Gardner-Webb's high-scoring offense came in an era with no shot clock and frequent use of stalling tactics that led college basketball to begin adopting a shot clock in the 1980s.
"It wasn't designed to necessarily score that many points," Holbrook said. "We wanted to be mobile and flexible and have guys that could play multiple positions. The philosophy was to speed the game up, make it move up the court quickly and fullcourt press a lot. Because of the mobility of the guys, the press became a key part of our offense."
Adams' game foreshadowed those of future NBA stars like Karl Malone, Charles Barkley and Dennis Rodman. Like Malone, Adams could pin a defender on the post and hit one bankshot or turnaround jumpshot after another. Like Barkley, Adams' seemingly exploded past opponents to get easy baskets. And like Rodman, he was a determined and relentless rebounder.
"It was a lot of long hours and a lot of hard work," Adams said. "But I saw basketball as my opportunity to play beyond Gardner-Webb. And I knew that if I worked hard, I had a chance to attain good things in my future.
"So I spent a lot of time working on my shooting and working on my conditioning. And that was all from working with coach Eddie Holbrook."
For Holbrook and Gardner-Webb, Adams was the foundation for the program after Gilmore's departure.
In the 1970-71 season, Gardner-Webb was a first-year member of the National Association of Intercollegiate Athletics (NAIA) – and considered an immediate contender for that governing body's prestigious national tournament in Kansas City, Mo.
With Adams a junior star and point guard Jack McGill the team's only senior, Gardner-Webb had an impressive 20-4 record in the 1970-71 season, the only losses coming against UNC-Asheville, Western Carolina, Barber-Scotia and Guilford.
The following year, the script was effectively flipped.
With Adams setting more school records that last to this day – scoring average (34.3 points), points (986), field goals made (412), field goal percentage (64.2), rebounding average (15.2) and rebounds (407) – Gardner-Webb finished 31-5 overall.
The Runnin' Bulldogs' had lost to Guilford in the regular season before the team claimed its first NAIA District 26 championship by winning 91-72 over Elon in a home semifinal playoff game and in a 77-76 district title win over Lenoir-Rhyne in a game played at High Point.
"I'm really tickled with the way our kids hung in there," Holbrook told reporters after the historic victory. "They could have folded up in a tight situation like that but they didn't."
It also came in a year in which advancing to Kansas City was the team's pursuit from the first day of practice.
"Kansas City was the goal and we heard that every day during practice," Adams said. "Now we were always taught to work towards the game that was ahead of us but Kansas City was always the goal that year."
A group of newcomers that included future standouts like Ken Napier and Alvin Jones recognized the incredible talent the team had from the moment it began preseason drills; Napier was a junior transfer from nearby Isothermal Community College in Spindale while Jones was a freshman from Pompano Beach, Fla.
"My first impression was, 'Wow, look at these players,'" said Napier, who would become a championship-winning coach at Gastonia's York Chester Junior High and at Shelby High School. "Of course you had George Adams and he was such a dominant player but I was really impressed with (guards) Denny DeSanctis and Richard Thomas. I thought I might come in and play some at first but those guys were seasoned veterans. So I settled in to coming off the bench and got some playing time. One of the reasons was that the team was so strong and the scores were so lopsided that coming off the bench was pretty good with all of that talent."
Jones later became a championship-winning high school coach in Lakeland, Fla., and the father of a player by the same name who played at Georgia Tech and the NBA.
"When I got to Gardner-Webb, I didn't even make the travelling scrimmage squad," Jones said. "But I learned. Man, that George Adams was something else. I had to guard him in practice every day during his senior year. And he just ate me up. He averaged over 30 points a game that year.
"So it was understood that we were going there (Kansas City) to win the thing. With them four seniors – Richard Thomas, Denny DeSantis, Tony Spagnola and George Adams – they just needed a couple of guys to fit in. Our attitude was that we were going to be unbeatable."
The 8,000-seat Kansas City Municipal Auditorium hosted the NAIA national championship tournament from 1937 to 1974 and has hosted it every year since 2002. It also hosted nine NCAA Final Fours, including in 1957 when North Carolina won its first tournament title.
Once Gardner-Webb made it to Kansas City in 1972, the team defeated Eastern Montana 109-94 and Pittsburg State, Ks. 91-87 before losing in the semifinals and in the consolation game to finish fourth in the country.
In the semifinals, top-ranked Wisconsin-Eau Claire built an early lead and took an 83-68 victory over Gardner-Webb; The Bulldogs lost the following night 94-91 to Stephen F. Austin.
It remains the highest national finish in program history.
"Our kids gave 110 percent all the way," Holbrook told reporters after the game in which Wisconsin-Eau Claire built early leads of 14-2 and 24-11. "But the first five minutes turned our game plan completely around."
Adams said the loss of such a physical post player as Thurston took its toll on him in the game as he frequently guarded or was defended by the 6-foot-10, 230-pound Mike Ratliff. Ratliff was a second-round pick in the upcoming NBA draft and would play one season for the Kansas City-Omaha Kings (now the Sacramento Kings).
"That was the first time I played against a really good 6-10, 6-11 guy in Mike Ratliff," Adams said. "He was a player and he was just too much."
Adams' last game of 44 points and 17 rebounds capped the first 1,000-point single season in N.C. college history with 1,136 points.