2022 Gaston County Sports Hall of Fame wrap-up: Former UNC, ACC leader talks college football as 5 are inducted
By Richard Walker
Former University of North Carolina athletic director and ACC commissioner John Swofford talked about the past and the future on Monday night as the featured speaker of the 2022 Gaston County Sports Hall of Fame banquet in which five others were honored.
In a ceremony at the Gastonia Conference Center, Swofford was introduced by Gastonia's 2005 GCSHOF inductee and UNC national championship-winning women's basketball coach Sylvia Rhyne Hatchell.
"John is just so good at everything he does," said Hatchell, who was hired in 1986 as UNC women's basketball and went on to become the fifth-winningest women's coach in history with 1,023 victories. "He was such a good leader. And I don't say that just because he hired me."
Later, Swofford was interviewed by Gaston College special advisor for athletics and advancement and former Duke and NBA standout Gene Banks.
As UNC athletic director from 1980 to 1997 and ACC commissioner from 1997 to 2021, Swofford has been a key figure in major changes for NCAA Division I athletics for more than 40 years.
He likened what's currently happening in the NCAA with concerns about players deriving financial benefits from NIL (Name Image Likeness) and the ever-growing transfer portal to what the NCAA went through when he began his athletics administrative career in 1973 when the Title IX Supreme Court ruling reshaped college athletics.
"That decision led to a lot of changes that some didn't want to see happen," Swofford said of the Title IX change that led to the addition of women's athletics for schools that previously only had men's athletics. "My guess is that a lot of the changes will be very similar to what happened then and college administrators and coaches will work to find a path forward."
Swofford also discussed how the ACC's expansion from nine teams when he became ACC commissioner to the 15 members it has today made the league sustainable in an era of change.
"In some people's eyes, the ACC with eight or nine teams was perfect," Swofford said. "But the ADs and presidents felt if we didn't grow, get more TV markets and get better in football, we'd have a hard time surviving as the ACC as we know it."
INDUCTEES
Cherryville's Stan Crisson, Cramerton's Joe Eller and Gastonia's Bob Frye, Claude Saunders and Nicole Woods were the inductees during the ceremony.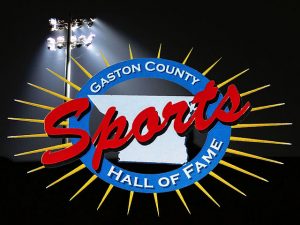 Crisson, who now lives in Plantation, Fla., was unable to attend so his inductor Ronnie Hovis spoke and accepted on his behalf.
"I want to sincerely apologize for not being there," Hovis said while reading Crisson's message. "I have physical disabilities that do no allow me to travel long distances."
Hovis, a star Cherryville High and American Legion pitcher himself, talked about how he and Crisson have been friends since they played on some fo the first Little League baseball teams in Cherryville in 1950. (They also were teammates alongside future major leaguer Tony Cloninger on Cherryville's Legion baseball team.)
A three-sport standout at Cherryville, Crisson played football and baseball at Duke before spending two years in the Canadian Football League that includes winning a 1965 Grey Cup as a receiver for the Hamilton Tiger-Cats.
Eller was inducted by former Gastonia Little Orangeman Pop Warner football player Mick McMahan and his award was accepted by his wife Patti.
"He was a terrific coach and I'm blessed to have him as a friend for 61 years," McMahan said.
Eller's wife wanted to thank former players and colleagues like Butch Adams, Joe Maynard, Gary Neely and Art Shoemaker for his award.
A championship-winning coach for the Little Orangemen with a 69-1 record, Eller also coached championship-winning high school teams at Cramerton (assistant) and North Gaston (head coach) before getting involved in the Gaston Seniors Golf Association.
Frye, a three-sport standout at old Gastonia High School, played football and baseball at Duke before gaining greater acclaim as a national sales manager for the Mount Olive pickle company, the organizer of Gaston County's Fellowship of Christian Athletes in 1965 and as a Sunday School teacher at Gastonia's Holy Trinity Lutheran Church.
His oldest son Bobby accepted his award.
"Playing sports prepared my dad for his life after sports," Bobby Frye said of his father, who was a member of championship-winning Gastonia football and baseball teams in high school.
Saunders, who died in 2008, was inducted by longtime refereeing friend Karl Logan and his award was accepted by his granddaughter Renecia.
"I don't any of his sports stories because he didn't talk about all that," Renecia Saunders said. "But I do know he was a kind, respected family man who had a love for dancing and golf."
Claude Saunders was a three-sport star at Gastonia's old Highland High and the first All-CIAA basketball player in Johnson C. Smith history before embarking on a long career in refereeing and high school teaching and administration. The first African-American referee to work the Shrine Bowl of the Carolinas in 1979, he also was the first NFL-hired clock operator for the Carolina Panthers from 1995 to 2007.
Woods had the largest crowd of the inductees, among them her current Charlotte 49ers head coach Cara Consuegra, her former Belmont Abbey head coaches Missy Tiber and Katie Pate and her former Hunter Huss head coach Jan Wiggins.
"Sports is what I call the great connector," said Woods, who played Huss, the Abbey and overseas professionally before embarking on her current coaching career that includes Southern Illinois, Stetson and Charlotte. "Race, sex and creed don't matter because it brings people together that may not be together otherwise."
Woods was inducted by her godson Malik Key.
OTHER AWARDS
Dallas' Daniel Britton, a longtime local sports enthusiast, won the Bennie Cunningham Fan of the Year Award.
Cherryville's Bud Black, a longtime high school and college basketball coach, won the David Poole Service Award.
Gastonia's Dr. Rodney B. Freeman, a longtime member of several community organizations, won the Marshall Rauch Humanitarian Award.
Cherryville High senior Kadin Beaver, who is headed to Methodist College to play football, was given Dr. Buddy Whitesides FCS Student-Athlete Scholarship Award.
And Belmont's Sam Montgomery, who has served as South Point High head football manager since 2001, was given the For The Love of the Game Award.