2021 N.C. LEGION HALL OF FAME: Four inducted, others honored in Cherryville
By Mike Powell
(Special Correspondent)
A grill master who exceled in food service, a man whose has worn many hats in the same program, and a legendary umpire were among the inductees at Saturday's North Carolina American Legion Baseball Hall of Fame induction ceremony at the banquet hall of Cherryville Post 100.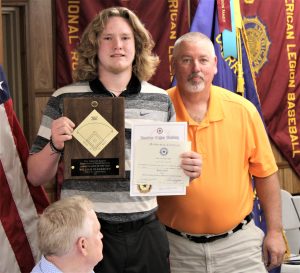 An audience of dignitaries and officials from across the state turned out for the ceremony that included recognition of the state Senior and Junior players of the year.
Sam Homesley, a longtime area official for high school and American Legion baseball, was one of two members of Post 100 to earn induction. Also enshrined was Post 100 commander Mike Robinson, a key architect in the long-term success of Cherryville's baseball program, which has hosted two of the last three state tournaments.
Homesley, whose colorful style behind the plate made him one of the most highly recognized officials in the region, was introduced by fellow Post 100 member and Area IV commissioner Jerry Hudson.
In his introductory remarks, Hudson entertained the audience with amusing anecdotes of the pair's years together as traveling officials who worked "thousands of games and kept coming back even when they didn't want us to."
Daneille Best introduced her father, Danny Rollins, who has been the primary organizer of food services at Pitt County Post 39 games in Greensville for decades. Rollins said that while he was not a coach, he relished his job as "the guy at the grill sweating it out in July."
Rounding out the field of honorees was Ahoskie Post 102 coach David Ellis, a driving force behind the 26-year run of American Legion baseball in Hertford County, an area of the state that is not a hotbed for the sport.
Ellis, who was introduced by Post 102 Commander James Hutchinson, said he "fell in love with baseball at the age of five." He spoke of the challenges of operating a viable American Legion baseball program in a community that is isolated from the major pockets of the sport in the state, but that his work has been a labor of love.
The 2021 Area IV American Legion Player of the Year Awards went to Will Blackburn, a Lincolnton High School junior who was named Junior Legion MVP after helping Cherryville to the 2021 state title, and to Zach Wilson, a Burns High product who garnered Senior Legion MVP honors and helped Cherryville Post 100 to the state semifinals.
Post 100 head coach Bobby Reynolds, the winningest Legion coach in N.C. history, accepted the award for Wilson; Wilson, a four-year Post 100 veteran, now plays collegiately at Tusculum University.
Stan Haynes, who coaches the Post 100 Junior Legion team, introduced Blackburn.
Ned Yates, Post 100 athletics officer, served as master of ceremonies and Jim Quinlan of Post 82 in Shelby, formerly the national director of American Legion Baseball for 28 years, made closing remarks.