2-8-23 roundup: Pro basketball and football, High school basketball, Middle school basketball, College basketball, baseball and softball
By Richard Walker
A former Shelby High football standout will be at the Super Bowl LVII as a coach – and extending a family legacy started by his father 23 years ago.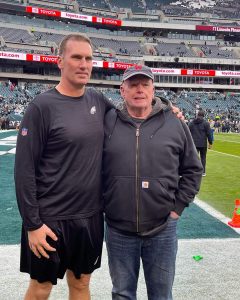 Jeremiah Washburn, an offensive lineman at Shelby High from 1991 to 1993, is in his fourth season as defensive ends/outside linebackers coach for the Philadelphia Eagles; The Eagles won the NFC championship and will meet the AFC champion Kansas City Chiefs on Sunday at 6:30 p.m.
It means Jeremiah Washburn will be joining his father in coaching at the Super Bowl. Jim Washburn, a 1967 Shelby High graduate and 1971 Gardner-Webb graduate, was Tennessee Titans defensive line coach when they suffered a heartbreaking 23-16 Super Bowl XXXIV loss in Atlanta to the St. Louis Rams.
Jim Washburn spent 42 years as a college and professional coach and his four-year tenure as Danny Ford's defensive line coach at Arkansas is the reason Jeremiah Washburn didn't finish at Shelby High; Jeremiah Washburn is a 1995 graduate of Pine Bluff Dollarway High School and who played offensive line at Arkansas.
Like his father, Jeremiah Washburn became a coach, getting his career started as a graduate assistant at Arkansas in 2000 before beginning his NFL coaching career in 2003.
He spent two years as a player personnel assistant (2003-04) and area scout (2005-08) for the Baltimore Ravens, was an assistant offensive line coach (2009-12) and offensive line coach (2013-15) for the Detroit Lions, assistant offensive line coach (2016) and offensive line coach (2018) for the Miami Dolphins, offensive line coach for the Chicago Bears (2017) and has been advanced projects coordinator (2019) and player personnel/senior defensive assistant (since 2020) for the Eagles.
This season, Washburn's defensive line sparked the Eagles to a franchise record 70 quarterback sacks this season that is third-most in NFL history; Only the 1984 Chicago Bears (72) and 1989 Minnesota Vikings (71) have had more.
Jim Washburn told tennesseetitans.com this week he would be attending Sunday's game in Glendale, Ariz.
As for Jeremiah Washburn, he admits his father has played a huge role in his coaching style.
"I take quite a bit from my dad," Jeremiah Washburn told tennesseetitans.com. "Why would I not? He's the best position coach of all time.
"I talk to him non-stop. He sees the game through a great lens."
High school basketball
It's been a big recent week for individual milestones for Bessemer City High School boys basketball players.
Randall Pettus has become the school's all-time leading scorer with 1,915 career points to pass previous record-holder Tony Byers' 1,903 points from 1967 to 1970.
And Keyshawn Adams last Friday surpassed 1,000 career points in his career.
Pettus and Adams helped the Yellow Jackets complete their regular season with a 15-7 overall record, 8-4 Southern Piedmont Conference record and league's No. 1 1A seeding in the upcoming N.C. High School Athletic Association playoffs.
Here's a look at results and schedules for the rest of the week in area high school basketball:
(Wednesday's games)
-BOYS
Cox Mill 85, Kings Mountain 60
Mountain Island Charter 61, Bradford Prep 50
-GIRLS
Cox Mill 60, Kings Mountain 44
(Thursday's games)
Corvian Community at Piedmont CC
(Friday's games)
Ashbrook at Huss
Crest at Kings Mountain
Forestview at Cramer
South Point at North Gaston
Burns at Shelby
Cherryville at Thomas Jefferson
Highland Tech at East Gaston
East Lincoln at North Lincoln
Lincolnton at West Lincoln
(MAC Tournament)
Tuesday's boys 1st round
No. 3 Northside Christian 64, No. 6 Metrolina Christian 47
No. 4 Gaston Day 69, No. 5 Westminster Catawba 60
Thursday's boys semifinals at Hickory Grove Christian
No. 4 Gaston Day vs. No. 1 Gaston Christian, 5 p.m.
No. 3 Northside Christian vs. No. 2 Concord Academy, 8 p.m.
Friday's boys championship
7 p.m.
College basketball
(Wednesday's games)
Cape Fear Community College 72, Gaston College 70: A 30-footer with 1.5 seconds left gave host Cape Fear Community College the Region 10 victory over the Rhinos (12-7, 2-4).
(Thursday's games)
Charlotte at UTEP
Eastern Kentucky at Queens
Gardner-Webb at Radford
Fordham at Davidson
(Saturday, Feb. 11)
Bellarmine at Queens
Belmont Abbey at Chowan
Charlotte at North Texas
(Sunday, Feb. 12)
Denmark Tech at Gaston College
College baseball
(Wednesday's games)
Gaston College 12, Caldwell Tech 2: The visiting Rhinos scored three runs in the first inning and six more in the second, setting the tone for a seven-inning win over the Cobras, who were ranked No. 5 in the NJCAA Division III poll and were off to a 2-0 start this season.
Belmont Abbey 7, Limestone 4 (Tuesday): Garrett Browder went 4-for-5 to lead the Crusaders to a 5-0 start to the season. Nic Aehlert picked up the pitching win by allowing just one hit in 2 1-3 innings of relief.
College softball
(Wednesday's games)
Gaston College 4-9, St. Andrews 0-3: After spending last season as a club team, Gaston College set history on the softball diamond on Wednesday afternoon with a doubleheader sweep of St. Andrews University in Laurinburg. Rhinos freshman pitcher Amiya Tomlinson struck out eight and threw a three-hitter in a 4-0 win in the opener that was fueled by Serena Yalich's three-run triple in the sixth inning. And Tessa Hunt scattered six hits and Brantleigh Parrott, Jailyn Tineo and Logan Lilly each had multiple hits in a 9-3 victory in the nightcap.
Middle school basketball
Gaston County Conference standings through Feb. 6:
-BOYS
Southwest 5-0
Mount Holly 4-0
Belmont 4-1
Grier 3-1
Holbrook 2-2
Chavis 2-3
Stanley 2-3
York Chester 2-3
Cramerton 1-3
W.C. Friday 0-4
Bessemer City 0-5
-GIRLS
Holbrook 4-0
Mount Holly 4-0
Belmont 4-1
Southwest 3-2
Cramerton 2-2
W.C. Friday 2-2
Stanley 2-3
York Chester 2-3
Bessemer City 1-4
Chavis 1-4
Grier 0-4
(Thursday's games)
Belmont at W.C. Friday, Bessemer City at Cramerton, Southwest at Mount Holly, Stanley at Holbrook, York Chester at Grier
Pro basketball
The Charlotte Hornets dropped their fifth straight game in a 118-104 road loss at the Washington Wizards.
P.J. Washington (20 points, 5 rebound, 3 assists), Terry Rozier (19 points, 7 rebounds, 6 assists) and LeMelo Ball (16 points, 6 rebounds, 4 assists) led Charlotte.
Here's the 2022-23 Charlotte Hornets schedule:
(15-41 record)
October
19 at San Antonio (W 129-102)
21 New Orleans (L 112-124)
23 at Atlanta (W 126-109)
26 at New York (L 131-134, OT)
28 at Orlando (L 93-113)
29 Golden State (W 120-113, OT)
31 Sacramento (L 108-115)
November
2 at Chicago (L 88-106)
4 at Memphis (L 99-130)
5 Brooklyn (L 94-98)
7 Washington (L 100-108)
9 Portland (L 95-105)
10 at Miami (L 112-117, OT)
12 at Miami (L 115-132)
14 at Orlando (W 112-105)
16 Indiana (L 113-125)
18 at Cleveland (L 122-132, 2 OT)
20 at Washington (L 102-106)
23 Philadelphia (W 107-101)
25 Minnesota (W 110-108)
28 at Boston (L 105-140)
December
2 Washington (W 117-116)
3 Milwaukee (L 96-105)
5 L.A. Clippers (L 117-119)
7 at Brooklyn (L 116-122)
9 New York (L 102-121)
11 at Philadelphia (L 113-131)
14 Detroit (L 134-141, OT)
16 Atlanta (L 106-125)
18 at Denver (L 115-119)
19 at Sacramento (W 125-119)
21 at L.A. Clippers (L 105-126)
23 at L.A. Lakers (W 134-130)
26 at Portland (L 113-124)
27 at Golden State (L 105-110)
29 Oklahoma City (W 121-113)
31 Brooklyn (L 106-123)
January
2 L.A. Lakers (L 115-121)
4 Memphis (L 107-131)
6 at Milwaukee (W 138-109)
8 at Indiana (L 111-116)
10 at Toronto (L 120-132)
12 at Toronto (L 114-124)
14 Boston (L 106-122)
16 Boston (L 118-130)
18 at Houston (W 122-117)
21 at Atlanta (W 122-118)
23 at Utah (L 102-120)
24 at Phoenix (L 97-128)
26 Chicago (W 111-96)
29 Miami (W 122-117)
31 at Milwaukee (L 115-124)
February
2 at Chicago (L 98-114)
3 at Detroit (L 112-118)
5 Orlando (L 113-119)
8 at Washington (L 104-118)
10 at Boston, 7:30 p.m.
11 Denver, 7 p.m.
13 Atlanta, 7 p.m.
15 San Antonio, 7 p.m.
24 at Minnesota, 8 p.m.
25 Miami, 7 p.m.
27 Detroit, 7 p.m.
March
1 Phoenix, 7 p.m.
3 Orlando, 7 p.m.
5 at Brooklyn, 6 p.m.
7 at New York, 7:30 p.m.
9 at Detroit, 7 p.m.
11 Utah, 7 p.m.
12 Cleveland, 5 p.m.
14 Cleveland, 7 p.m.
17 Philadelphia, 7 p.m.
20 Indiana, 7 p.m.
23 at New Orleans, 8 p.m.
24 at Dallas, 7:30 p.m.
26 Dallas, 1 p.m.
28 at Oklahoma City, 8 p.m.
31 Chicago, 7 p.m.
April
2 Toronto, 1 p.m.
4 Toronto, 7 p.m.
7 Houston, 7 p.m.
9 at Cleveland, 1 p.m.
Pro football
Here's the 2022-23 NFL playoff schedule:
-Wild Card weekend
Jan. 14-16
(AFC)
No. 1 Kansas City – bye
No. 5 L.A. Chargers at Jacksonville – Jacksonville 31-30
No. 7 Miami at No. 2 Buffalo – Buffalo 34-31
No. 6 Baltimore at No. 3 Cincinnati – Cincinnati 24-17
(NFC)
No. 1 Philadelphia – bye
No. 7 Seattle at No. 2 San Francisco – San Francisco 41-23
No. 6 N.Y. Giants at No. 3 Minnesota – N.Y. Giants 31-24
No. 5 Dallas at No. 4 Tampa Bay – Dallas 31-14
-Confererence semifinals
Jan. 21-22
(AFC)
No. 4 Jacksonville at No. 1 Kansas City – Kansas City 27-20
No. 3 Cincinnati at No. 2 Buffalo – Cincinnati 27-10
(NFC)
No. 6 N.Y. Giants at No. 1 Philadelphia – Philadelphia 38-7
No. 5 Dallas at No. 2 San Francisco – San Francisco 19-12
-Conference championship games
Jan. 29
NFC – No. 2 San Francisco at No. 1 Philadelphia – Philadelphia 31-7
AFC – No. 3 Cincinnati at No. 1 Kansas City – Kansas City 23-20
-Super Bowl
Feb. 12
At Glendale, Ariz. – Philadelphia vs. Kansas City, 6:30 p.m. (FOX)
Auto racing
The 2023 NASCAR schedule (with winners in parentheses):
Feb 5 Clash at The Coliseum, Los Angeles CA (Martin Truex, Jr.)
Feb 16 Duel No. 1, Daytona Beach FL, 7 p.m. on FS1
Feb 16 Duel No. 2, Daytona Beach FL, 8:45 p.m. on FS1
Feb 19 Daytona 500, Daytona Beach FL, 2:30 p.m. on FOX
Feb 26 NASCAR Cup Series at California, Fontana CA 3:30 p.m. on FOX
Mar 5 NASCAR Cup Series at Las Vegas, Las Vegas NV, 3:30 p.m. on FOX
Mar 12 NASCAR Cup Series at Phoenix, Avondale AZ, 3:30 p.m. on FOX
Mar 19 NASCAR Cup Series at Atlanta, Hampton GA, 3:30 p.m. on FOX
Mar 26 NASCAR Cup Series at Circuit of the Americas, Austin TX, 3:30 p.m. on FOX
Apr 2 NASCAR Cup Series at Richmond, Richmond VA, 3:30 p.m. on FS1
Apr 9 NASCAR Cup Series at Bristol, Bristol TN, 7 p.m. on FOX
Apr 16 NASCAR Cup Series at Martinsville, Martinsville VA, 3 p.m. on FS1
Apr 23 NASCAR Cup Series at Talladega, Lincoln AL, 3 p.m. on FOX
Apr 30 NASCAR Cup Series at Dover, Dover DE, 2 p.m. on FS1
May 7 NASCAR Cup Series at Kansas, Kansas City KS, 3 p.m. on FS1
May 14 NASCAR Cup Series at Darlington, Darlington SC, 3 p.m. on FS1
May 21 NASCAR Cup Series All-Star Open Race, North Wilkesboro NC, 6 p.m. on FS1
May 21 NASCAR Cup Series All-Star Race, North Wilkesboro NC, 8 p.m. on FS1
May 28 NASCAR Cup Series at Charlotte, Concord NC, 6 p.m. at FOX
Jun 4 NASCAR Cup Series at World Wide Technology Raceway, Madison IL, 3:30 p.m. on FS1
Jun 11 NASCAR Cup Series at Sonoma, Sonoma CA, 3:30 p.m. on FOX
Jun 25 NASCAR Cup Series at Nashville, Lebanon TN, 7 p.m. on NBC
Jul 2 NASCAR Cup Series at Chicago, Chicago IL, 5:30 p.m. on NBC
Jul 9 NASCAR Cup Series at Atlanta, Hampton GA, 7 p.m. on USA
Jul 16 NASCAR Cup Series at New Hampshire, Loudon NH, 2:30 p.m. on USA
Jul 23 NASCAR Cup Series at Pocono, Long Pond PA, 2:30 p.m. on USA
Jul 30 NASCAR Cup Series at Richmond, Richmond VA, 3 p.m. on USA
Aug 6 NASCAR Cup Series at Michigan, Brooklyn MI, 2:30 p.m. on USA
Aug 13 NASCAR Cup Series at Indianapolis Road Course, Speedway IN, 2:30 p.m. on NBC
Aug 20 NASCAR Cup Series at Watkins Glen, Watkins Glen NY, 3 p.m. on USA
Aug 26 NASCAR Cup Series at Daytona, Daytona Beach FL, 7 p.m. on NBC
(Cup Playoffs)
Sep 3 NASCAR Cup Series at Darlington, Darlington SC, 6 p.m. on USA
Sep 10 NASCAR Cup Series at Kansas, Kansas City KS, 3 p.m. on USA
Sep 16 NASCAR Cup Series at Bristol, Bristol TN, 7:30 p.m. on USA
Sep 24 NASCAR Cup Series at Texas, Fort Worth TX, 3:30 p.m. on USA
Oct 1 NASCAR Cup Series at Talladega, Lincoln AL, 2 p.m. on NBC
Oct 8 NASCAR Cup Series at Charlotte, Concord NC, 2 p.m. on NBC
Oct 15 NASCAR Cup Series at Las Vegas, Las Vegas NV, 2:30 p.m. on NBC
Oct 22 NASCAR Cup Series at Miami, Homestead FL, 2:30 p.m. on NBC
Oct 29 NASCAR Cup Series at Martinsville, Martinsville, 2 p.m. on NBC
Nov 5 NASCAR Cup Series at Phoenix, Avondale AZ, 3 p.m. on NBC